5 Traditional Cultures of Vietnam
Last updated: Apr 28th, 2023
Though heavily influenced by Chinese culture, Vietnam, a mysterious land in Southeast Asia, also sees multiple changes along with history, where you will discover a fascinating culture. If you are embarking on planning a trip to this amazing country, this article will show you 5 of the traditional Vietnamese cultures that may help you get a glimpse of Vietnam first.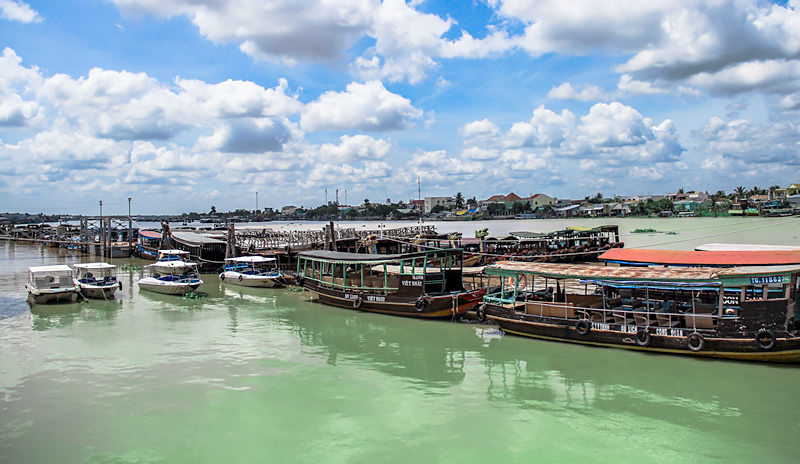 Mekong Delta has bred a fertile land


1. Rickshaw
A rickshaw is a two-wheel or three-wheel vehicle used for carrying passengers. One of the most accepted theories about the invention of the rickshaw believes that an American missionary invented it in order to carry his invalid wife. During the French colonial time, the rickshaw, or more specifically, cyclo appeared in Vietnam and became a popular transportation means. However, this unique vehicle now serves mainly as a tourist attraction. Unlike the two-wheel one pulled by a man on foot, the rickshaws in Vietnam nowadays are powered by a man pedaling behind, with two of the wheels in the front and one in the back under the driver.
It's really an authentic way to explore the Vietnamese cities by rickshaw, where you can experience the local civil life, and the drivers are usually very passionate about telling you the stories and cultures of Vietnam.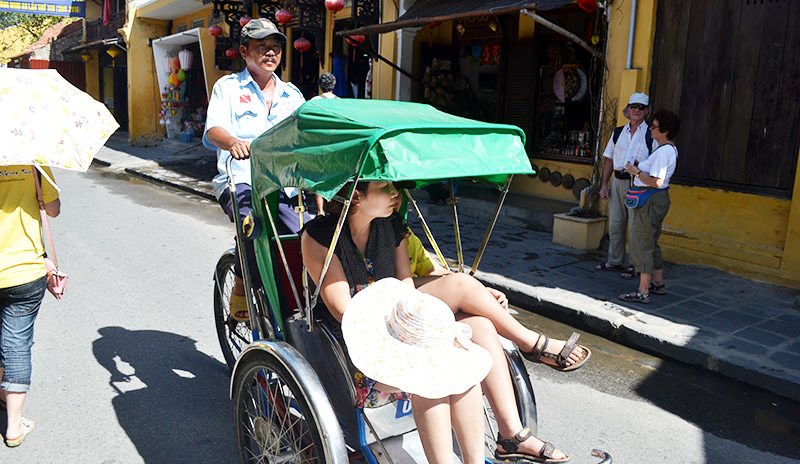 A rickshaw can take you to explore Vietnamese culture closely
Tips:
1. For a better experience, we recommend that a rickshaw carries one person at a time.
2. It's always wise to negotiate the charges before you jump into the cabin, in order to avoid unnecessary arguments. One trick about bargaining with the drivers is that you can first offer a third of the price, and then haggle the fare to about half of the price. If the driver still refuses it, you can try pretending to walk away for seeking another driver, and then there's a great possibility that he will accept the deal.
3. A rickshaw exploration of Hanoi's Old Quarter is recommended, and you can get a close touch of the local Vietnamese life.


2. Floating market
As the "rice bowl of Vietnam", the Mekong Delta's fertilization has bred a gorgeous "water civilization". The local floating markets make up one of the special Vietnamese cultures. It is said that the floating markets date back to the 19th century, during the reign of the Nguyen Dynasty. One of the special characteristics of floating markets is the produce samples are hung on a lateral bar to help buyers know what the traders are selling. With traders carrying their fresh goods by boats and doing bargains on the water, the hustle and bustle of this unique scene have gained popularity among travelers.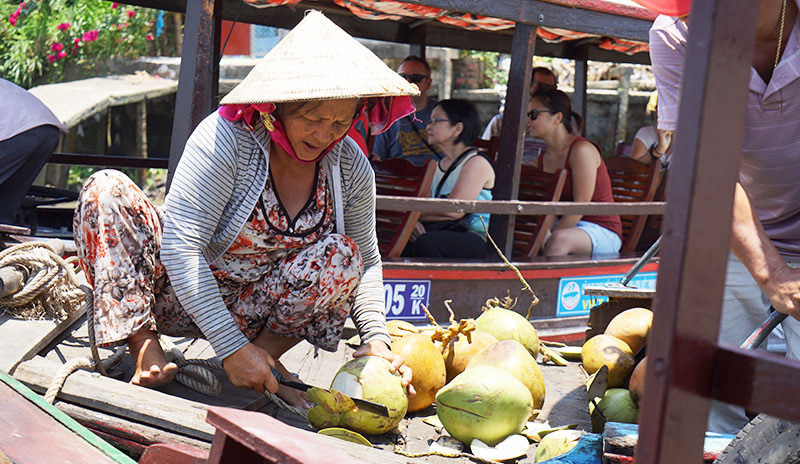 Fresh fruits are one of the main products in the floating markets

Floating markets recommended
Can Tho - Cai Rang market: a must-see floating market when traveling to Can Tho, and it's a big wholesale market, where you can find large quantities of fresh fruits being sold in this busy region. And the typical breakfast of the local area consists of rice noodles and soup sold on boats. It would be an authentic Vietnamese experience to taste the simon-pure cuisine while enjoying the floating feeling.
Start time:5am, get crowded at 6 am, so make sure you get up early enough to catch the busy scene.
Tien Giang – Cai Be market: just a short distance from Ho Chi Minh City, so it is quite convenient for foreign travelers to pay for a visit. This floating market also sees the trade of fruits and vegetables as well as seafood, and it starts not as early as other floating markets. It starts at the moment of sunrise and lasts until late morning.
During the lunar months from December 27/28 to January 6, the floating markets are usually closed, when Vietnamese are on their celebrating the Vietnamese New Year.


3. Water puppetry
If there's one way that combines culture learning and entertainment, the intriguing water puppetry would be an excellent choice. Dating back to the 11th century, this unique variation of ancient Asian puppet art features the skillful manipulation of the puppets, with the puppeteers controlling different varieties of puppet characters through large bamboo rods behind a screen, and not letting the audience see the puppeteers. The show is played on a waist-deep pool, so it would look like the puppets are moving on the water themselves.
The stories of the puppet show are usually about people's daily lives, legends, and some historical heroes. And the background music is played live with story-telling singing, drums, pipes, and other traditional instruments. It's a great cultural learning time to share with families.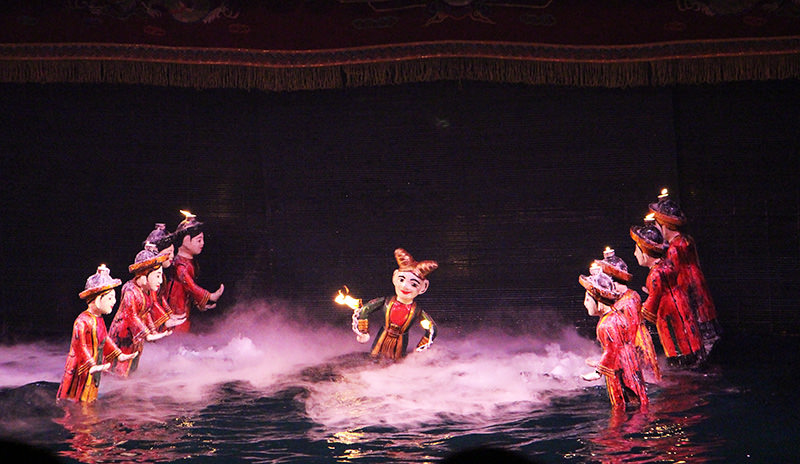 Water puppetry is both educational and entertaining
Where can you watch this show?
Located near the serene Hoan Kiem Lake, the Hanoi Water Puppet Theater is the place where you can admire this unique traditional Vietnamese art performance. The show will be put on every day at 15:30 – 17:00 – 18:30 – 20:00 – 21:15, and Sunday at 9:30.


4. Silk painting
The silk painting was originally a traditional art form of painting on homemade rice paper, and later Nguyen Phan Chanh created the style of painting on silk that we see today. The elegance of this art soon became popular in the country for its softness and vibrant colors. Artists will directly use the silk canvas as the background and then paint with watercolor, dye, or ink. The beauty of a silk painting largely depends on the silk quality and the colors that are chosen, and you will not get the chance to erase it if you paint a wrong stroke of brush on the silk. Just like the material used, silk paintings present a soft status with simple subjects and a gentle painting style. They usually portray the countryside lives and beautiful natural landscapes. After developing for a long time, Vietnamese silk paintings are now attracting both domestic and foreign fans to admire this unique art.
Where can you buy one?
There're fine art galleries and shops in Hanoi and Ho Chi Minh City where you can purchase silk paintings. You can tell our travel consultants your interest in buying a piece of this special art, and we will arrange and put it into your itinerary.


5. Vietnamese New Year
The Vietnamese New Year is also called the Tet. It is the most important traditional festival during Lunar New Year (usually around late January to early February), and people would celebrate it with different kinds of customs, such as ancestor worship, making special New Year food, and writing couplets as well as other traditional activities. And people would go to visit friends' or relatives' houses on the first day of Tet. For more information about traveling to Vietnam during Tet, check this article on our website: Things to Know about Tet Festival (Vietnamese New Year).
Making Banh Chung
Banh Chung is one of the special traditional foods that people would make during the Vietnamese New Year. It is usually made of sticky rice, along with pork meat and green bean, all wrapped in the shape of a perfect square with a leaf of a certain local plant called Dong. And then Vietnamese would place the Banh Chung and other foods on the ancestors' altars (ancestor worship) till cook them one or two days before the New Year.
Setting up New Year trees
At the end of the preparation for the Tet, a piece of bare bamboo (4-5 meters long) will be set up, with a little bunch of leaves on the tip, and a basket holding some fish and bells made of baked clay, acting as the marks that lead the ancestors' spirits their way home to a reunion with the living.
Couplet
It's an indispensable tradition that every family would put up a couplet on the two sides of the main entrance door. The sentences are usually written in two parts. Words of one part must have the opposite meaning to the other part and obey some specific matching rules, which create an easy-pronounced effect. And you can find these traditional couplets written on red paper and being sold on both sides of the street, forming a happy atmosphere.


Though much Chinese influence is seen among different Vietnamese cultures, the history of Vietnam tells us that Vietnamese cultures have been mixing with many other cultures as time went by. If your enthusiasm for a trip to Vietnam has been aroused, then stop hesitating and contact our professional travel consultants at trip@odynovotours.com. We will respond to your inquiry within 24 hours and tailor-make your private itinerary for you.
What Our Clients Say About Us
"Awesome Itinerary" "Exceed A ll Expectations" "Great Value"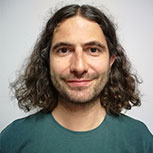 CONTACT A TRAVEL EXPERT
1-to-1 Service | Reply within 24hrs | Expert's Advice
SUBSCRIBE TO WIN A FREE TOUR
Subscribe to our newsletter for a chance to win a free 7-day Peru tour! And more insider travel news, exclusive offers, and inspiration will be sent straight to your inbox.